IMPORTANT POINTS FOR A BETTER TRIP
PLANNING AND SAFETY
Hike in groups of up to 10 people. Smaller groups harmonize better with nature and cause less impact.
It's recommended that you use the services of tourism agencies and licenced guides.
Avoid walking on trails after 4 PM.
Before participating in any activity, advise your guide about any special needs. Eg. physical conditions or allergies.
For your safety, before participating in any "adventure activity" with any degree of risk, check that the organizers have a collective accident insurance policy or civil responsibility insurance.
Be prepared for excursions. Always carry these essential items: water, snacks, sun block and insect repellent.
CARE FOR THE TRAILS AND THE NATURAL ENVIRONMENT
Stay to the trails. Don't take short cuts, especially if it's wet, muddy or slippery. The difficulty of the trails is part of the challenge of being alive and experiencing nature.
Don't litter or leave anything behind you. Leave the area as clean as you found it.
Speak quietly, preserving the tranquility that nature has to offer.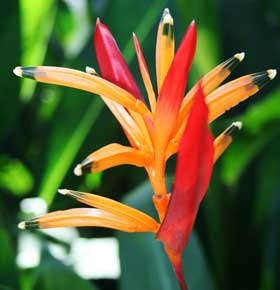 RESPECT THE PLANTS AND ANIMALS
Observe animals from a safe enough distance, for yourself and for them. Furthermore, wild animals can transmit serious diseases, especially small animals.
Don't feed or touch the animals.
Don't pick wild flowers or plants. Appreciate beauty where it is without disturbing nature and allow other visitors this same opportunity.
BE COURTEOUS
Be polite to the local population and other visitors.
Try to go through local agents for lodging, transportation and services. That way you are helping to ensure that financial resources stay in the community.
Help to enlighten other visitors by sharing this information at every opportunity.